The Zoom Room Kit with AVer VC540 Pro for Mid-to-Large Conference Rooms provides users with a cost-effective solution to achieve business communications and meetings amongst participants located at different places- conference rooms, desk/laptop PCs, smart phones and tablets.
The VC540 option of our Zoom Room kit provides you the flexibility of having a wireless Speakerphone connection, thereby eliminating cable clutter around your conference table.
We have, with this package, demystified using the Zoom solution in conference rooms to basically few clicks on the zoom room controller, and pronto, you are bridging the distance between your conference room and your invitees/participants anywhere they are in the world.
All you need in addition to this package is good Internet connection, your zoom account and the LCD/LED screen.
Kit Highlights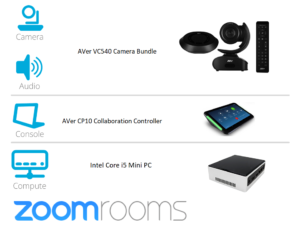 Video Camera: AVer VC540 4K Conference Camera with Bluetooth Speakerphone
Zoom Room Application: Runs on Intel Mini PC (Including Wireless Keyboard and Mouse)
Zoom Room Controller: Runs on AVer CP10 Collaboration Controller