The VB342 Pro video bar delivers exceptional audio and video quality for enterprises as an all-in-one PTZ Technology device. The VB342 Pro is AVer's premier, all-in-one video bar for midsize meeting rooms equipped with cutting-edge features like Smart Gallery, SmartSpeaker, Gesture Control and Audio Fencing. The only USB conference camera for video conferencing you will ever need.
Features:
4K 3X optical zoom lens with 15X zoom
Sony 4K True WDR sensor: ultra-crystal-clear image in any lighting
10-element beamforming microphone array
8 meters (27 ft) pickup range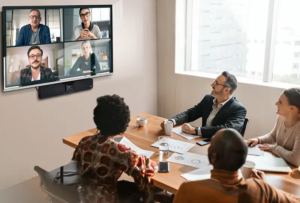 All-in-One PTZ technology
The VB342 Pro video bar features PTZ technology with an integrated camera, mic, and speaker audio. The 92° FOV lens features 3X optical zoom (15X total zoom) with mechanical pan and tilt to deliver a vivid image so you can see participants in crystal clear clarity.
Advanced AI for smarter meetings
Clearly capture attendees with Smart Gallery, which enables AI technology to crop participant's faces and make sure everyone is looking great. You can choose between headshot and half body mode to adapt to any meeting situation. Great for collaboration or video calling.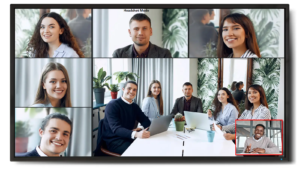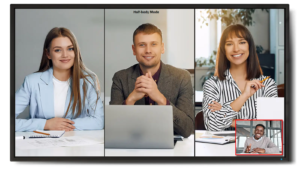 Enhance your meeting with Gesture Control
The camera can easily be controlled and enable AI functions by holding up one finger on either side of your face. Take advantage of built-in AI gesture recognition to operate the camera and eliminates touchpoints to increases meeting safety.
Exceptional audio
Beamforming technology ensures resonant sound from powerful 6Watt Speakers. Beamforming 10-microphone array picks up and reproduces resonant voices from up to 20 feet away. Optimized for HD voice collaboration to reduce meeting fatigue, voices coming from remote locations are supernatural and smooth.